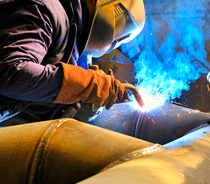 G.M.I.S. would like the opportunity to familiarize your organization with our company's services and skills.
General Marine & Industrial Services is a company that has established a Reputation for meeting clients' needs by delivering quality services in a timely manner. With our fabrication facility in Chester Pa. and our field services division, we are able to service all of our customer requirements. 

Given the extensive experience of the management team of G.M.I.S. we have a solid background in industrial and maritime construction. With that a strong emphasis has been placed on safety, quality, productivity, scheduling, documentation, tools, equipment, reporting, and training.


Full Service Ship/Vessel Repair-Modifications
Installation-Repairs-Inspections-Heat Exchangers/Process Vessels/Storage Tanks
Welded/Threaded/Plastic/Cast/All Alloys-Shop or Field Services Available
Installations/Moving/Adjusting/Loading or Unloading-Transportation of Heavy Equip.
All Alloys Performed to Code/Shop or Field Service Provided
High or low Speed Machinery Repairs / Adjustments / Modifications / Pumps
All Alloys/Complete Shop or Field Services
Scaffolding/Framing/Shoring
Air Compressors/Gen.Sets/Welding Machines/Pumps/Trucks/Trailers/Cranes
Duct Work/Ventilation Hoods/Fabrications/Installations/Erection
Conveyor Systems/Blower Systems/High or Low Speed Belts or Screen Types
Refractory/ Machinery Grouting/Concrete/Block Work

Proven Customer Loyalty

Customer Satisfaction has always been a top priority at GMIS. We pride ourselves in the fact that we have established many long lasting working relationships with our customers.

Saftey

We have maintained an impeccable saftey record through a dedicated commitment to training and oversight.
We pride ourselves in providing quality workmanship in a timely fashion